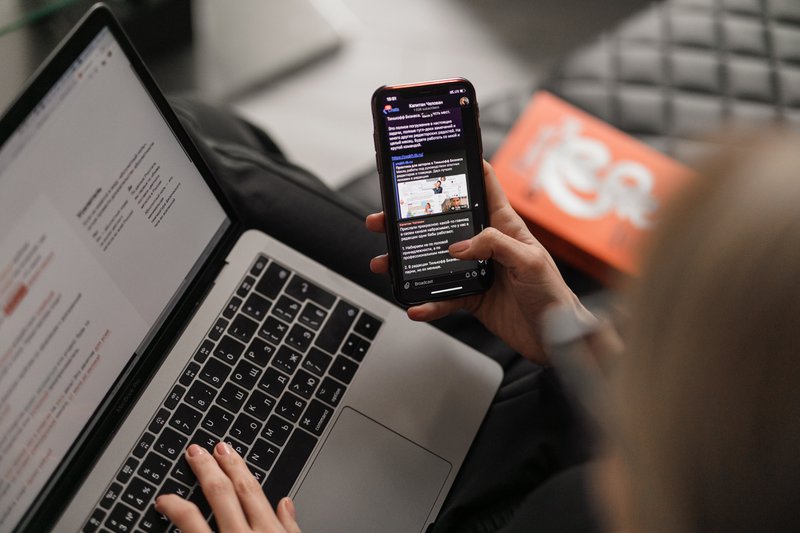 Push notifications are messages sent by a website or an app to the users' devices to send alerts in real-time. These can be personalized to drive desired actions from customers. Customers who opt-in to receive push notifications only need to be online to receive push notifications, even if they are not using the browser/app at the moment.
What Is A Push Notification And How Does It Work
Push notifications, also known as rich messages, or actionable messages, are messages that pop up on your mobile phone or desktop from various applications or websites. Clicking on these messages will redirect you to that particular app or website. You don't even need to have the app or website opened to receive their notifications.
With email open rates in decline, push notifications provide a perfect alternative to communicate with your users.
Push notifications are also more user-friendly than text messages. Many users perceive promotional text messages as spam, making them likely to opt-out of receiving them.
How Do Push Notifications Work?
Web Push Notifications
Push messages for websites help to re-engage with customers through relevant content. However, users need to opt-in on the website first to receive push notifications.
When a user opts-in to receive push notifications, a message is sent to the GCM push service.
The GCM service sends a request to the service worker on a web browser.
This, in turn, helps in checking whether that user has signed up for the updates before.
After that, the service workers keep sending push notifications to the user when relevant.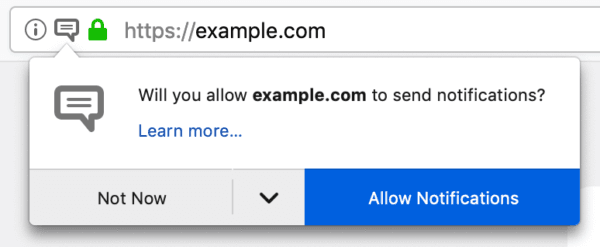 Mobile Push Notifications
For Android: The push messages on android are sent by default.
For iOS: The push messages on iOS are blocked by default.
There are different policies for iOS and Android regarding push messages. The likelihood of an iOS user to open a push notification is lesser than an Android user. But if they do open a push notification, they are likely to do it faster than Android users.
Most iOS apps use a pop-up to ask for permission to allow push notifications when users open the app for the first time after installation. Making the content of your push notifications actionable can drive more open rates. The median opt-in rates for push notifications are up to 70% for charity and travel apps and 33% for games.
Things To Know Before Sending Push Notifications
1. Know The User And The App
Know the preferences of your users and what they like before sending push notifications. Users have downloaded your app because they liked it. But do they like it enough to receive daily updates about the app? You need to consider the likelihood of a user opting out of receiving these updates before you start sending push notifications.
2. Figure Out The Frequency of Sending Push Notifications
The frequency of sending push notifications varies among different brands and is contingent on a number of factors. If your app sends notifications more or less of the same nature, it's better to send them sparingly.
No one wants to be reminded of the same thing over and over again. But if your notifications are varied, innovative, and entertaining, you can send them more frequently.
There isn't a rule of thumb when it comes to the frequency of sending push notifications. You need to figure out your optimum frequency based on your product, marketing needs, and users.
There are different acceptance thresholds for sending notifications for different types of products. For example:
Gaming apps can send one notification a day. But, consider the timing to send the notifications in the gaming apps carefully.
New apps can send 3-4 notifications per day. But, the notifications need to be relevant to your users.
3-4 push notifications per week for a fitness app is acceptable. Though, it mostly depends on that particular app.
3. Send Push Messages At The Preferred Time
Timing is one of the major aspects while sending push notifications. You need to consider a few things while scheduling your push notifications:
Send push notifications on happy hours to get the best results.
10 AM to 1 PM is the prime time in any territory for sending push messages.
Target push notifications according to the time zone of the user.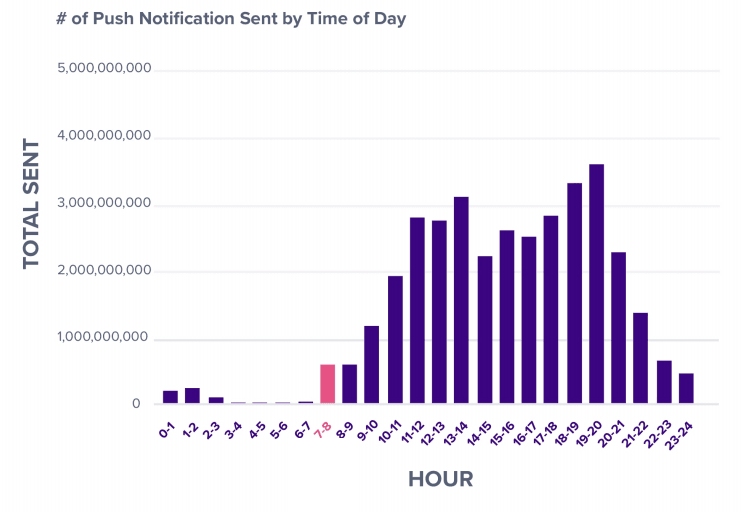 4. Send Push Messages According To The Users Location
A lot of large-scale businesses use geofencing technologies to send push messages based on the users' location. Tracking the users' location, with their permission, will allow you to drive up sales owing to better personalization.
5. Maintain The Character Limit
Push notifications also appear on lock screens, and unlike text messages, users can't click it and watch the entire text. Thus, push messages need to have a certain character limit.
Shorter push messages have higher click-through rates. 10 or fewer words in a push notification have a click-through rate of 8.8%. Whereas, 11-20 words elicit a click-through rate of 4.9%. The figure drops to 3.2% for 21 or greater worded push messages.
Why Are Push Notifications So Important
1. Boosts User Retention
User retention allows you to understand how well your app is performing in the market. You can figure out how many users have downloaded your app and used it more than once with the help of this metric.
According to Statista, in 2019, 25% of users downloaded an app never again to return to it, which creates no value for the businesses. Push notifications are one of the most effective ways to bring back disengaged users.
Sending push notifications also helps to increase your retention rate. If your app can send personalized notifications that create value for your users, retaining them for the long term is a cakewalk.
2. Increase Conversion Rates And Monetization
Push notifications aim to elicit an immediate reaction from the user. Making call-to-actions relevant and contextual also helps drive up your conversion rates.
In fact, well-crafted push notifications can drive conversion rates by 4 times, helping you ramp up your revenue.
Monsy lets you harness the power of push notifications to easily capture the attention of your audience across multiple platforms, and eventually skyrocketing your revenue.
3. Increases User Engagement
Along with boosting user retention, a strong push notification strategy also helps to increase user engagement. These push notifications nudge the users towards action, in case they are too busy to open the app.
A well-crafted push notification strategy informs users about an offer they could activate within a time limit while personalizing it to their needs.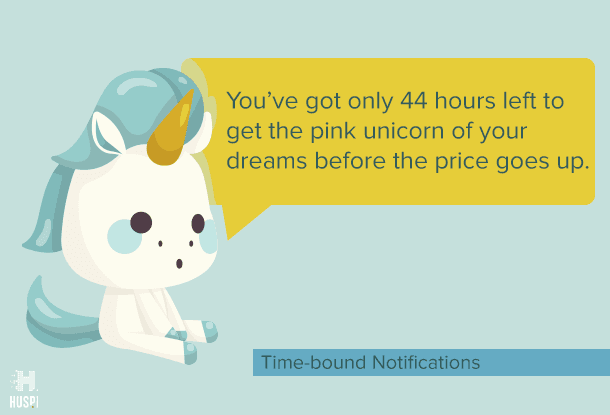 Remind users that were close to completing an action, like an abandoned cart or signing up for a free trial.
Send alerts to users reminding them about upcoming events, updates, offers, etc.
Show up-to-date and relevant news to the users according to their preferences.
This helps users engage with your app or website and increase engagement. Deep linking within push notifications can help engage a user even more and eventually drive them closer to action.
4. Targets The Right Users
Once you're allowed access to the users' location, you will have an opportunity to capitalize on location-specific push notifications. This allows you to send offers personalized to users living in a certain territory, which can be a country, state, or city.
For example, Waze informs its users of nearby gas stations and gas prices along with traffic situations around them. Similarly, SeatGeak shows up ticket offers on their push messages of games happening around the users. Personalization doesn't have to stop at the location of your users.
You can also utilize the data you can collect about your users' interests and send push messages based on them. Netflix sends notifications about the release of a new season from a series that a user has already watched. While you might get notifications to watch Mean Girls, someone else will receive notifications about the new episodes of Black Mirror.
5. Grows Subscribers Quickly
The opt-in rate of notifications from websites is typically 10-15%. You can notice the results immediately after installing a push notification service.
Users are shown a small pop-up, which they can use to subscribe to notifications by simply clicking 'Allow'.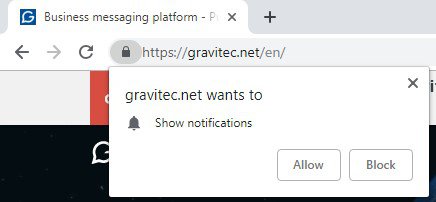 This easy opt-in process allows you to grow your subscriber base rapidly. If you consider the alternatives, such as forms, the ease of subscribing to notifications clearly stands out.
A good practice is to send your subscribers a welcome message as soon as they subscribe. This helps to solidify your connection with the subscribers even further.
6. Catches User Attention
Although a basic push notification contains a header, an image, text, and a link, there are rich push notifications that include videos, images, audio, and interactive media. Chrome, Opera, and iOS all support rich push messages.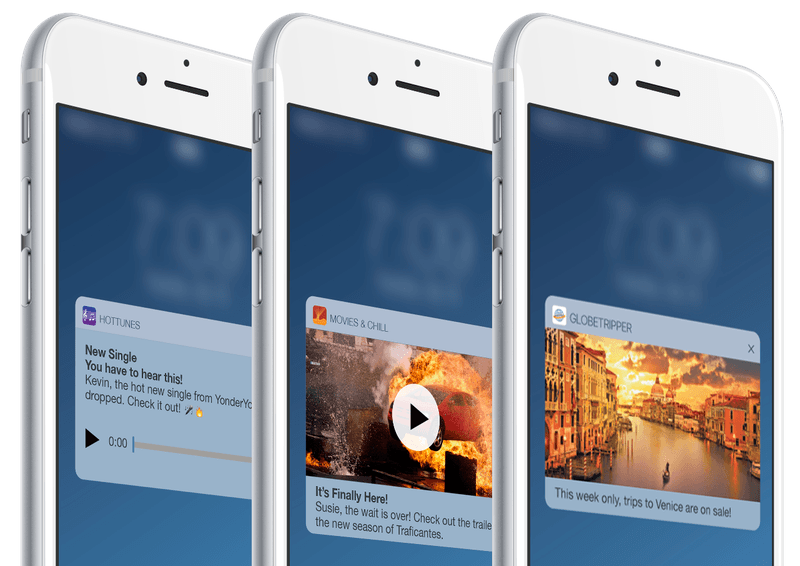 These rich push notifications drive interest from users, thanks to their interactive nature and catchy visuals. These help you to drive up user engagement, loyalty, and retention.
7. Increases Traffic
Driving traffic to your blog is no easy task. It can take a while for your content to rank higher in search results, and not every business has the budget to spend on paid search marketing. This is where push notifications prove their worth.
Sending push notifications that redirect users to new content can help you grow your traffic steadily. If done correctly, push notifications can drive up your click-through rates up to 40%.
For example, The San Francisco Chronicle had a 150% increase in traffic and The Tribune Publishing Network saw a tremendous increase of 293% in online subscriptions.
If you're looking to gauge the impact of your push notifications, you can use Monsy to calculate the increased revenue due to the growing traffic.
8. Allows Easy Opt-in And Opt-out
Users can easily opt-in and opt-out of push notifications from your app. The ease of opting out makes sure the users receiving the updates are genuinely interested in them.
In fact, 26% of users enjoy getting updates about their preferred content and therefore, like receiving push notifications. Surprisingly, 20% of users noted that push messages help them increase their productivity.
You can analyze user feedback and activity to gather information about the optimum frequency and timing of sending push notifications. If your users opt-out after they receive 5 push messages a day, that's your cue to re-assess your push notification strategy.
9. Enhances User Experience
Apart from being a brilliant marketing channel, push notifications can also greatly improve user experience.
Let's consider FoodPanda for instance. You can place your order and then wait for your food to arrive. But you'll get way too impatient and text the delivery man every two seconds. To solve this issue, FoodPanda keeps you updated on the delivery status by sending you notifications. You'll receive a push message when the food has been prepared, another when the food man picks up your order, and then one last one when the food has arrived at your destination.
Foodpanda's push notification strategy helps them improve user experience by creating actual value for their users.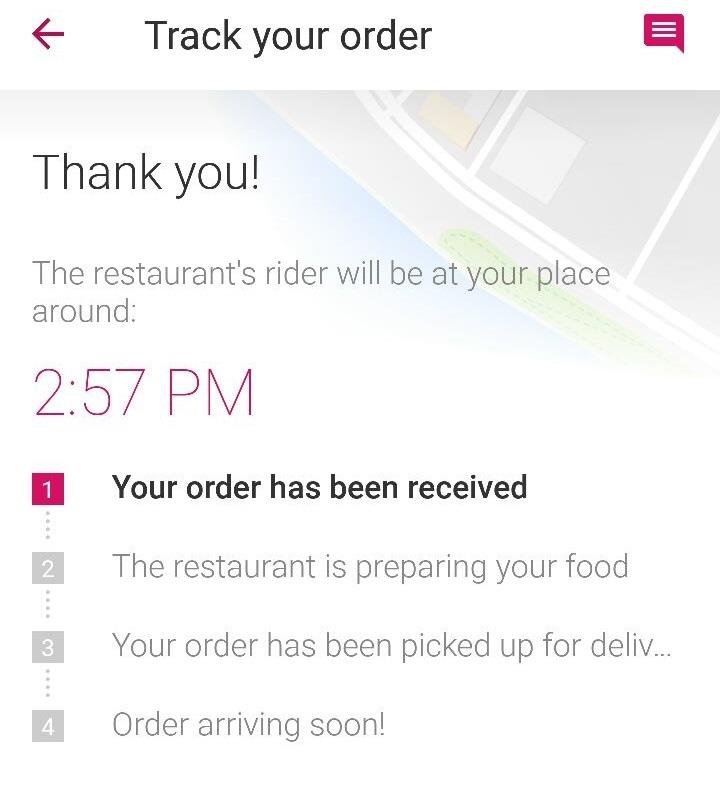 10. Allows Segmentation and Behavioral Targeting
Push notifications allow you to segment your subscribers by:
Browsers
Operating Systems
Geographic locations
Once a user subscribes, the service collects and stores all the metadata from the user's device instantly. The data collected here can be used later for segmentation and targeting.
Apart from basic segmentation, you can also use behavioral tracking to personalize push notifications. It helps you create comprehensive profiles that help personalize push notifications based on user preferences.
Behavioral segmentation helps you create a user-centric strategy instead of a product-centric one, which helps you predict the decision-making patterns of the user.
Final Words
Marketers are increasingly relying on push notifications as a point of differentiation. Push notifications are indeed a great way of standing out from your competitors and create value for your customers.
Before you dive into it, keep in mind that what worked for your competitor might not work for you. So consider your product and user preferences while crafting a push notification strategy.
So what are you waiting for? Register now on Monsy today to get your push notification campaigns up and running!